Please choose a product from the list below to find usage overviews, operating instructions, material safety sheets, technical data, application tips and much more.
Download the Official Tiger Foam™ Master Manual: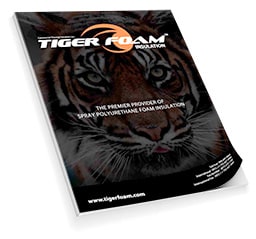 Environmental Compliance
Tiger Foam™ Products are fully compliant with applicable Safety and Environmental regulations for: Volatile Organic Compounds (VOC's): Tiger Foam™ Products on this site have zero VOC's. Therefore, there are no concerns about compliance with EPA regulations or the various air quality management districts requirements in the state of California.
Propellants
Tiger Foam™ products are formulated to comply with the U.S. Clean Air Act and the Montreal Protocol for reduction of ozone depleting chemicals emitted into the atmosphere. Tiger Foam™ Products are compliant with all current regulations.
Safety
Tiger Foam™ Products are designed with safety for the professional customer in mind. Hazards are minimized for transportation, end-use, and disposal.
Other Approvals and Specs
Meets US Coast Guard Title 33 Specification (p. 183.114)
ASTM-E84 (American Society for Testing Materials)
Flame Spread = 20 / Smoke Developed = 200 / Perm = 1.2 @ 3″
Fuel and water resistant
International B2 Fire Rating
Complies with U.S. Clean Air Act & Montreal Protocols
CHEMTREC #201586 – 800.424.9300
CCMC #13484-L
ICC ES Report # ESR-3183