Our Illinois and California warehouses are open for business!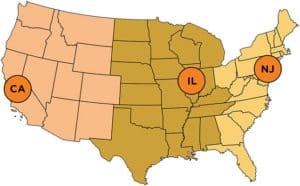 Now you can enjoy fast shipping on all orders with tigerfoam.com. We have expanded our national distribution network. With new shipping centers in Illinois and California, most orders can now arrive within 2-3 business days!
This means our customers can get their products faster, spending less time waiting and more time getting the job done.
Call our foam experts at 1-800-664-0063 and get your energy savings project on the fast track to success!
Ready to start? Head over to our products page to place your order.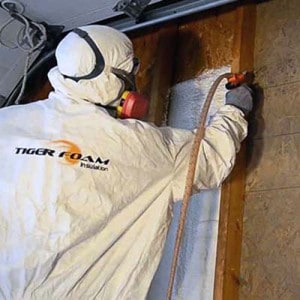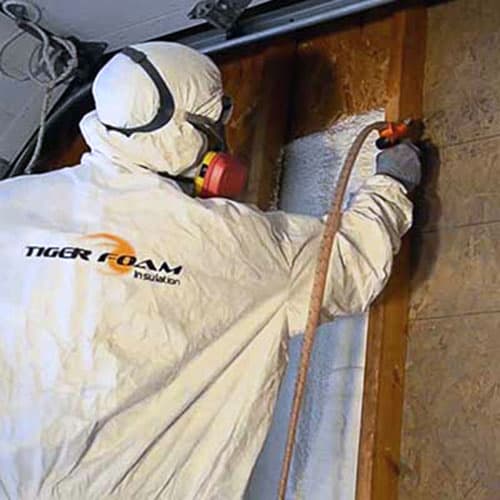 Trying to decide what type of spray foam insulation you should use for your jobs? It's trickier than it seems – though closed cell and open cell foam both insulate a home, they do it in different ways. In this guide we will examine open cell vs closed cell foam and help you pick the best product for your project.
What's the Difference Between Open Cell and Closed Cell Foam Insulation?
Open and closed cell foam are two different types of spray foam insulation. They have different strengths and weaknesses, and one is not necessarily better than the other. It comes down to understanding the benefits of open cell vs closed cell foam and choosing the type that fits your needs.
Let's start by looking at the differences between open and closed cell foams.
The Cells
A spray insulation is referred to open cell or closed cell because of the difference between the small bubbles (cells) that make up the foam.
Open cell foam is full of cells that aren't completely encapsulated. In other words, the cells are deliberatly left open. This makes the foam a softer, more flexable material.
Closed cell foam is made up of cells that are, as the name suggests, completely closed. The cells are pressed together, so air and mositure are unable to get inside the foam. Because of this, closed cell foam is much more rigid and stable than open cell foam.
Density
Closed cell foam is much denser than open cell foam. Most open cell foam has a density of about .5 pounds per cubic foot. Closed cell foam can be over three times that, with a density of  1.75 pounds per cubic foot or more.
R-Value
A foams R-value is its resistance to heat flow or, in other words, how well they insulate.
Closed cell foam has a higher R-value than open cell foam, usually about 6.0 per inch. But some closed cell foams, like Tiger Foam's E84 Closed Cell formula, have even higher ratings that go up to almost 7 per inch. This higher rating makes closed cell foam better at keeping heat in or out of a structure.
Open cell foams have an R-value of around 3.5 per inch. This is significantly lower than closed cell foams, which can limit open cell insulations usefulness in extreme temperature conditions.
Expansion
This is one of the most important differences from an application standpoint. Closed cell foam is designed to expand to about 1″ of thickness when sprayed. With each inch offering an r-value of 7, multiple applications can be applied to achieve higher total r-values. Open cell foam is designed to expand to 3″ of thickness, meaning only one application is possible in most standard walls.
What Do All These Terms and Ratings Actually Mean?
At this point, you might be still be trying to decipher which type of foam insulation is right for your project. Here's a quick summary of open cell vs closed cell foam strengths and the best applications for each:
Benefits of Closed Cell Foam
Closed cell foam is the best choice for robust insulating where space is an issue, as it can achieve 2x the R-Value of  open cell inside a standard wall. Its rigid nature also adds to the structural integrity of the building and E84 fire rated versions are available. The closed cell also acts as a vapor barrier, so water and moisture will be less likely to get inside the home, and the foam itself is unharmed by water damage.
Benefits of Open Cell Foam
One of the biggest benefits of open cell foam is that it expands so much after it has been applied, meaning it can insulate hard to reach nooks and crannies in a home. These types of areas can be hard to insulate with closed cell foam. Open cell foam is excellent for soundproofing where a single application can completly fill the area between studs. Its lower density also makes it great for filling floats in marine applications.
Open cell foam is also much more affordable than closed cell foam, however this foam won't insulate a house as well as closed cell foam, so it's not ideal for locations with extreme weather temperatures.
So Which Insulation Should I Use?
Ultimately, it depends on where a house is located, what the insulation goals are, and of course how big the budget is. Need some more help deciding between open cell vs closed cell foam? Give us a call!
Know the Product:
Please read the Material Safety Data Sheet (MSDS), Technical Data Sheet (TDS) and Operating Instructions prior to using our products. The MSDS and Operating Instructions can be found with every spray foam kit or refill tanks, by contacting Tiger Foam Insulation™ at:
Toll Free 800-664-0063
International (001) +1-732-927-2090
Fax Number: (877) 415-1185
International Fax : (001) 1 +732.927.2091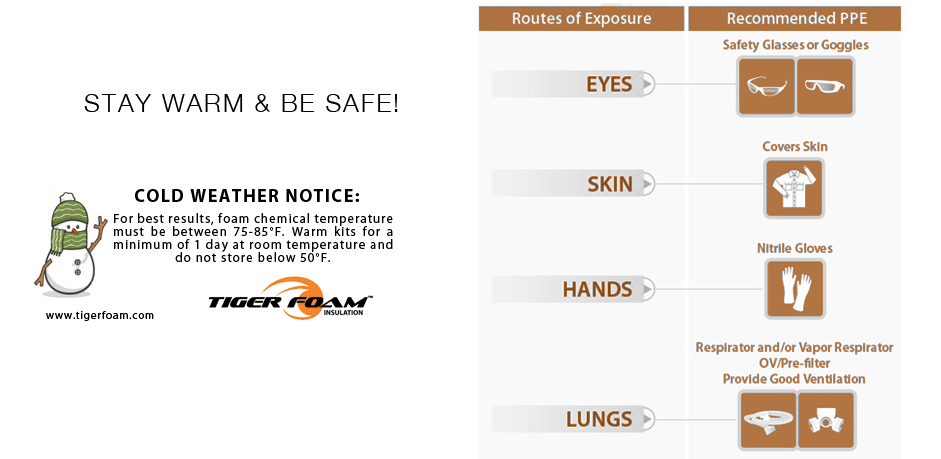 Important Tank Tips
Tank Temperature
For best results, maximum yield, and the best spraying foam, the chemicals in the tanks should be between 75 and 85 degrees Fahrenheit. In the summer and in warm climates, this is easy to do. In cold climates or winter months, we suggest you use a forced air heater of some sort to bring the chemicals up to optimum temp. Too hot or cold reduces yield!
Shake Them Up!
You should agitate the canisters to mix the propellant well before you start spraying. This insures that you get good pressure all the way to the end of the canisters. Simply rocking or rolling the larger tanks back and forth for a minute or two is sufficient. The A tank tends to need to be shaken longer than the B tank.
High Pressure!
These tanks are pre-pressurized and like any pressurized tanks, there is more pressure when you first open them than there is near the end of the tank. The trigger on the application gun is metered in that the further you pull back on the trigger, the faster the chemicals dispense. Please adjust your flow to match your application goals.
Change Nozzle Tips
The nozzle tip on the end of the application gun is actually the mixing chamber for the two chemicals. This high tech nozzle is ribbed in such a way to create a mixing 'vortex' within the tip so well mixed foaming agents are dispensed for maximum results. Just as the foam rises and hardens in 30-45 seconds for the fast rise formula, it will do so in the tip if chemical isn't being sprayed through the tip.
Once the trigger is squeezed it must be reactivated within 30 seconds or a new nozzle must be installed. The tips also need to be changed every 8 minutes of continuous spray time. Failure to do this could result in chemical leakeage that could ruin the dispensing unit and/or hoses.