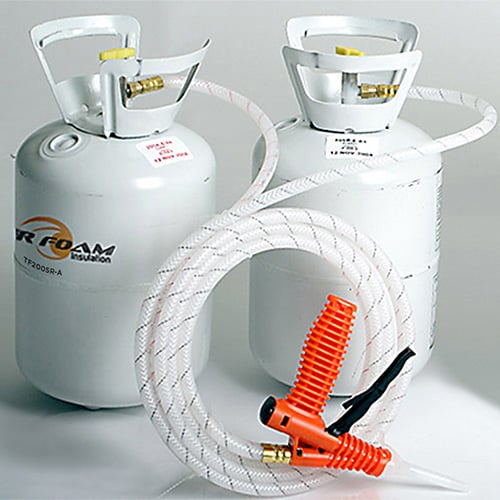 – Pre-Order –
This product is available for pre-order, new orders are expected to ship in 2-4 weeks.
Tiger Foam™ TF-200SR Slow Rise 200 BdFt Kit –
Price: $465.00
Our most versatile foam, slow rise formula is designed to completely fill cavities without harming existing walls. Simply drill and fill behind the drywall or plaster – ideal for retrofitting older homes and buildings. It can also be poured into place for ditch or mold released applications. Unlike many of our competitors, this kit comes ready to spray with a 9.5 ft Gun/Hose Assembly, 8 Cone Nozzle Tips, and kit preparation instructions.
Key features:
The highest R-Value in the industry at nearly R-7 per inch.
Impervious to Mold and Moisture.
Completely seals out unwanted air leaks.
Protects against dust, air infiltration, pests, and sound.
Ready-to-use, disposable and recyclable.
Respirator Masks with organic vapor filters and a prefilter for particulates are required when applying spray foam insulation. PLEASE read our Operating Instructions & FAQ PDF file for additional, important usage info. This kit theoretically yields 162.5 board feet (square foot at 1″) or 13 cu. ft.
The shipping weight per kit is approx 40lbs. Please note that if you are ordering multiple kits the shipping address must be accessible by delivery truck. Due to DOT restricions, all non-commercial and residential deliveries are by appointment, customers will be contacted by the shipping company prior to final delivery. Orders that have not confirmed delivery may be delayed. Please contact our customer service with any questions or for assistance with the delivery process.
[accordion clicktoclose=true scroll=true tag=h3][accordion-item title="Which Formula should I choose?" id=formula]
Use this chart as a quick guide to each of our product formulas and where they should be used. If you have any questions or are unsure which of our spray foam kits is right for your project please call us at 1-800-664-0063 and we will be happy to assist you.
| Formula | Fire Rating | Open Walls | Existing Walls | Attics | Crawl- spaces | Pontoons & Docks | Sound Control |
| --- | --- | --- | --- | --- | --- | --- | --- |
| Fast Rise | Class 1 | X | | X | X | | X |
| Slow Rise | | | X | | | X | X |
| Quick Cure | Class 2 | X | | | | | X |
| Open Cell | Class 1 | X | | X | | | X |
[/accordion-item][/accordion]
[accordion clicktoclose=true scroll=true tag=h3][accordion-item title="Technical Data and Safety Information" id=data]
[/accordion-item][/accordion]
[accordion clicktoclose=true scroll=true tag=h3][accordion-item title="Energy Savings Begin with Quality Insulation" id=savings]
Eliminate Costly Middle Men
When you purchase from Tiger Foam your are buying the highest quality product directly from the manufacturer. This allows use to combine great customer service with wholesale pricing that other companies just can't beat. Whether your looking to purchase one kit or 100 kits we make sure you get the best price and the highest quality service possible.
Spray Foam Insulation Can Help Reduce Your Heating & Cooling Bills By Up To 50%
Compared to other types of insulation, spray foam insulation provides signifacant annual savings on heating and cooling costs. Our sprayfoam kits are completely self-contained and 100% recyclable, You don't need anything else but what comes with our kits. You'll be saving money as soon as the foam is sprayed. Take 30-50% off your utility bills and add that up over the months and before you know it your insulation investment has paid for itself.
Tiger Foam Insulation™ Kits are Easy to Use!
Tiger Foam Insulation™ Kits come complete with gun and hose assembly, extra nozzle tips, and they require no outside power source or additional machinery to apply. These portable and recyclable spray foam insulation kits are easy to use.
We welcome your phone call to discuss your particular application and methods should you have any question about using our products. We appreciate your business and look forward to serving your need to seal, insulate, waterproof or fill any area of your structure, home or application that requires great insulation.
[/accordion-item][/accordion]
[accordion clicktoclose=true tag=h3][accordion-item title="Additional Product Information" id=msds]
Slow-Rise Polyurethane Foam Formula
Applies to Product ID# TF600SR and TF200SR Portable Spray Foam Insulation Systems by Commercial Thermal Solutions, Inc.
Approvals and Standards
Meets or exceeds the Coast Guard specification requirements for flotation in Title 33 code of the Federal Regulations, paragraph 183.114 and meets the requirements of DIN 4102-1 for a B2 building material and is designed within the international guidelines for protection of the ozone layer, and with respect to the Montreal Protocol, 1987, and other environmental guidelines.
ODP (Ozone Depletion Potential): Contains non-ozone-depleting, non-flammable HFC Propellant. VOC Content: Contains no VOC's, according to currently accepted definitions.
Applications
Tiger Foam Slow Rise can be dispensed into a dry cavity to insulate, fill, and seal various size voids, provide buoyancy, dampen sound, or reduce vibration. It is specifically designed to spray into molds or cavities and formulated not to damage drywall if standard building practices are followed for attachment to studs, drywall is 3/8″ or thicker, and the manufacturer's directions are followed. Tiger Foam Slow-Rise Formula adheres to almost all building materials with the exception of surfaces such as polyethylene, Teflon®, silicone, oils, greases, mold release agents, or similar materials. Substrate must be clean, dry, firm, and free of loose particles. Protect surfaces not to be foamed. Foam is safe for internal wiring and around electrical boxes.
You can find valuable tips and information on using our slow rise formula in one of our customer's tutorials titled:
Injection of Tiger Foam™ into closed walls for insulation of older houses
Product Description
Tiger Foam Slow-Rise Cavity Fill Formula is a multi-purpose, two-part closed-cell polyurethane formula specifically designed for low pressure and delayed foaming action. The packaging, delivery system, and components were designed to be user- and environmentally friendly. These systems are both portable and disposable. They are completely self-contained to provide flexibility in end-use performance. Details at our website: www.tigerfoam.com
Properties
Two-part foam systems will begin to expand immediately upon chemical reaction of the "A" component (a polymeric isocyanate) and "B" component (a polyol blended with proprietary additive ratios) chemicals to a volume that is 3-5 times the dispensed volume, depending on ambient conditions and cavity size. The foam will cure to semi-rigid, closed-cell foam. Optimum application temperature of the chemicals in the tanks is 75° F (24° C) to 85° F (34° C). Cured foam is resistant to heat and cold -200° F to +200° F (-129° C to +93° C). It is also resistant to negative effects of aging. It is not resistant to UV light and must be painted, coated, or covered if exposed to direct sunlight after application.
Cured polyurethane foam is chemically inert and non-reactive in approved applications, and will not harm electrical wire insulations, Romex®, rubber, PVC, polyethylene (i.e., PEX) or other plastic. It is approved for use around wires, plumbing penetrations, etc., and contains no formaldehyde. Tiger Foam creates a tight seal that insulates and protects against dust, air infiltration, pests, and sound.
Preparation For Use
Protect surfaces not to be foamed. For mold filling applications, clamping or bracing of the mold is generally required to provide uniform support against foaming pressure. Extent of this clamping should be determined based on application and desired results. For best results, heat the mold substrate to 80 – 100°F (27 – 37°C), as this will improve the adhesion and "flowability" (filling characteristics) of the dispensed foam. Optimum chemical temperature is 75 – 85 °F (24 – 29°C). See the "Product Storage" section for important temperature information.
Special Features
Cleanable tips (use Acetone)
Metered spray gun
Tiger Foam systems do not require outside electrical or mechanical power source.
[/accordion-item][/accordion]