Tiger Foam™ – Fast Rise & Slow Rise Polyurethane Foams are mainly used as a high quality insulation material. This System is used to spray, inject, pour or fill and fix various materials with rigid, closed cell Polyurethane Foam.
Spraying between stud walls, for insulation
Crawlspace and under floors. Air and Water Tight! Great for preventing flooding damage and drafts.
Sound proofing. Air Seal.
Metal Building Insulation – Stops Condensation – Adds Structural Stability.
Cold storage warehouses, trucks, tankers, and railcars
New build or renovation of old properties.
Barn Conversions
Emergency or temporary water dykes or stops for projects or flood/hurricane zones.
Pipe Insulation – up to -200 to +200 degrees Fahrenheit. (-129 to +93 Celsius)
Vibration and Noise Control
Filling gaps post and pre construction
Resists Oil and Petrochemicals – temporary hazmat spill containment
Motor wells, wheel wells, storage on boats, barges, planes
Airplane Hanger Insulation
Insulating commercial & residential construction
Filling openings in boats & trailers
Converting vans & buses
Spraying wood or metal sheds for insulation and stopping condensation.
Insulating spas & hot tubs
Large surface coverage and large voids
Loft and/or Roof insulation
Stage & Set design
Sound and noise reduction in walls
Buoyancy in boats
Filling blind cavities and narrow openings
Skateboard Ramps/Parks
Spraying underside of slate tiles, to hold tiles in place, to help insulation, water proof and stop condensation
Metal Buildings. Seals, Insulated, Stops Condensation.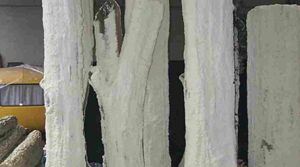 Stage Props. These trees were used in the Harry Potter Movie Sets.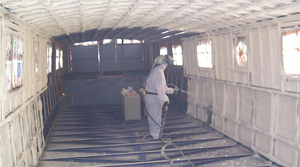 Boats and ships are a natural place for buoyant Tiger Foam™.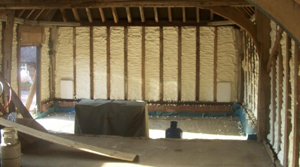 Tiger Foam™ is Grrreat for barn conversions!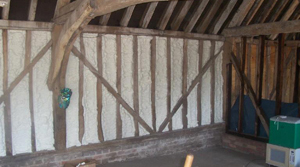 Insulation for Barn Conversions