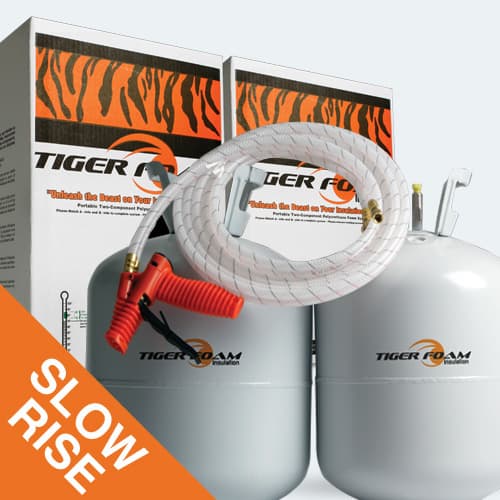 Tiger Foam™ HFO Slow Rise 600 Board Foot Kit
Price $475.00 ea.
Please note these kits have reached the end of their recommended shelf life. They are steeply discounted and sold as is, we cannot accept returns.  Please contact our customer service team with any questions.
TF600SR – Our most versatile foam, slow rise formula is designed to completely fill cavities without harming existing walls. Simply drill and fill behind the drywall or plaster – ideal for retrofitting older homes and buildings. It can also be poured into place for ditch or mold released applications. Unlike many of our competitors, this kit comes ready to spray with a 15 ft Gun/Hose Assembly, 8 Cone Nozzle Tips, and kit preparation instructions.
Key features:
The highest R-Value in the industry at nearly R-7 per inch.
Impervious to Mold and Moisture.
Completely seals out unwanted air leaks.
Protects against dust, air infiltration, pests, and sound.
Ready-to-use, disposable and recyclable.
Respirator Masks with organic vapor filters and a prefilter for particulates are required when applying spray foam insulation. PLEASE read our Operating Instructions & FAQ PDF file for additional, important usage info. This kit theoretically yields 600 board feet (square foot at 1″) or 50 cu. ft.
Handling time for orders is typically 2-3 business days, you will receive a tracking number once your order ships. The shipping weight per kit is approx. 120lbs and each kit ships in two boxes. Please note that if you are ordering multiple kits the shipping address must be accessible by delivery truck. Due to DOT restrictions, all non-commercial and residential deliveries are by appointment, customers will be contacted by the shipping company prior to final delivery. Orders that have not confirmed delivery may be delayed. Please contact our customer service with any questions or for assistance with the delivery process.